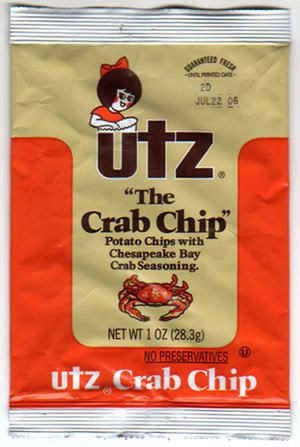 The 1st & 15th (Pretty Much) Mix Series is a series of mixes presented by Emynd & Bo Bliz on (or around) the 1st and 15th of every month.
Crossfaded Bacon Presents
1st & 15th (Pretty Much) Mix Series
Volume 18: 06.15.2009: Meistro
*CRAB CHIPS & LAKE TROUT 2*
DOWNLOAD (DIVSHARE)
Sorry, y'all I'm in France so I haven't had a chance to tag this properly or give it a proper 1st & 15th cover design, but the music is more important anyway, right? This week I'm very proud to host my man Meistro's second installment of his very good Crab Chips & Lake Trout series which is, as he describes as a mix where each "track was either produced (or remixed) by a Baltimore artist. It is not an attempt at a "best of," just a mix of tracks that represent the diversity of the Baltimore sound — new and old (although mostly from the past five years or so). Vocal joints, gospel, club bangers, etc. Hope you dig it!" It's always nice to showcase the diversity found in Baltimore (it aint ALL just Club music out there!) and Meistro does a great job here. We love this mix and hope you do as well! Comments and thoughts always welcome!
The first installment of Crab Chips & Lake Trout is posted after the jump as well!
Tracklisting:
1. Jasper Street Co. – A Feelin' (Farley & Heller inst)
2. Fanatix – Open Your Eyes feat. Dionne Mitchell & Sterling Ensmble (DJ Spen & Tha MuthaFunkaz remix)
3. DJ Oji – Scattmasters (Teddy Douglas re-edit)
4. Michelle Weeks & Dawn Tallman feat. Laquana Jones – We're Gonna Make It (DJ Spen Mix)
5. Jasper Street Co. feat Ann Nesby – God Helps Those Who Help Themselves (Baltimore Club Remix)
6. Jasper Street Co. feat Ann Nesby – God Helps Those Who Help Themselves (Original Mix)
7. Next Phase – Piece of Mind (Basement Boys Vocal Mix)
8. Ferry Ultra feat. Roy Ayers – Dangerous (Spen & Karizma main mix)
9. MuthaFunkaz feat Shelia Ford & Biblical Jones – Galaxy (MuthaFunkaz Long Version)
10. Master Kev & Scott Wozniak – String Thing (DJ Spen's Code Red Mix)
11. Master Kev & Scott Wozniak – String Thing (KW Griff's Baltimore Klub Mix)
12. Marc Evans – Tonight's the Night (Miguel Migs Salted Vocal)
13. Skwerl – All Woman (K2's Deepah 1ne Dub)
14. Stephanie Cook – A New Day (Karizma Dub)
15. Karizma – Necessary Madness
16. Ben Westbeech – Hang Around (Karizma's Deepah 1ne Remix)
17. Tayor McFerrin – Georgia (Karizma's Bruk it Down Remix)
18. A Guy Called Gerald – Voodoo Ray (DJ Spen & Thommy Davis Dub)
19. Sybil – Don't Give Up (Dub)
And here is the first one again:
CRAB CHIPS & LAKE TROUT VOL 1 – DOWNLOAD (DIVSHARE)
Tracklisting:
1. DJ Pope – I Need You (Pope's Original Classic Mix)
2. Polyphonics feat Sanne – Changing Times (DJ Spen and MuthaFunkaz rmx)
3. Jersey Maestros feat Renee Smith – He's So Real (Spen's Praise Party Mix)
4. DJ Spen & The MuthaFunkaz – Always (Thommy & Spen's Rock the House Mix)
5. Southern House-Po-Tality – Stop (Feel What You Won't) (Country Buffet Mix)
6. Ta – Time (DJ Oji's Afro-Eclectic Mix)
7. KW Griff – Arabian Nightmare
8. Jasper St. Company – Solid Ground (Doo Doo Solid Mix)
9. Taja Sevelle – Sympathy for the Devil (Remix Dub)
10. Thommy Davis – Nightrain (Orignal Mix)
11. Spenitch – I'm Blessed
12. Blaze presents UDAUFL ft. Ultra Nate – Wonderful Place (Fanatix rmx Dub)
13. Michelle Weeks – Gotta Keep Tryin'
14. Foremost Poets – Besides Myself (DJ Spen & Neal Conway Vocal Remix)
15. Those Guys feat. Paul Shapiro – Freak (Paradox Stomp Mix)
16. Dennis Ferrer – Church Lady (Thommy & Spen Beatz)
17. Marvin Gaye – Music (Karizma rmx)
18. Sublevel feat Donnell Rush – Time to Celebrate (Philly Soul Vocal / inst)
19. Bill Withers – Lovely Day (Karizma K2 Edit)
-e